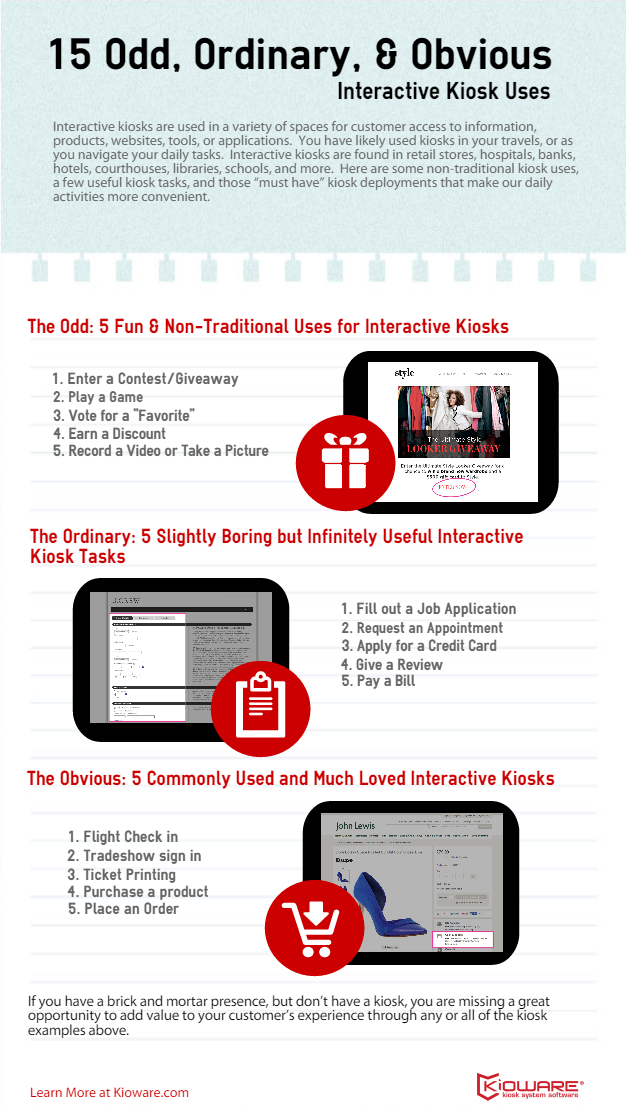 Share this Image On Your Site
15 Odd, Ordinary, & Obvious Interactive Kiosk Uses
Interactive kiosks are used in a variety of spaces for customer access to information, products, websites, tools, or applications. You have likely used kiosks in your travels, or as you navigate your daily tasks. Interactive kiosks are found in retail stores, hospitals, banks, hotels, courthouses, libraries, schools, and more. Here are some non-traditional kiosk uses, a few useful kiosk tasks, and those "must have" kiosk deployments that make our daily activities more convenient.
The Odd: 5 Fun & Non-Traditional Uses for Interactive Kiosks
1. Enter a Contest/Giveaway
2. Play a Game
3. Vote on a "Favorite"
4. Earn a Discount
5. Record a Video
The Ordinary: 5 Boring but Infinitely Useful Interactive Kiosk Tasks
1. Fill out a job application
2. Request an Appointment
3. Apply for a Credit Card
4. Submit Feedback
5. Pay a Bill
The Obvious: 5 Commonly Used and Much Loved Interactive Kiosks
1. Flight check in
2. Tradeshow sign in
3. Ticket printing
4. Product purchasing
5. Placing an order
If you have a brick and mortar presence, but don't have a kiosk, you are missing a great opportunity to add value to your customer's experience through any or all of the kiosk examples above.
How difficult is it to set up a kiosk?
It can be quite simple to set up your interactive kiosk. If your goal is to provide access to existing online applications, websites, or tools, a simple kiosk software configuration will allow you to leverage what already exists. If you would like more robust tools like payment accepting, barcode reading, or printing, you can still set it up using kiosk software, but a few other options will need to be available, and configured.
Want more like this? Here are some related posts:
AT&T Experience Kiosk Project
Rio Tinto Lobby Kiosk Project
Museum Kiosk Brings Interactive Information to Visitors
Penn State All-Sports Museum Improves Visitor Experience Through Interactive Kiosks
Columbia Interactive Retail Storefront Window