The Franklin Bill Payment kiosk by Olea is a turnkey solution for cash payment order processing. The KioPay application, combined with Olea's Franklin Bill Payment kiosk, houses CPI's MEI BNR cash recycler. This Cash Kiosk Turnkey Solution provides transaction records, accepts unattended cash payments, and allows for secure product delivery, addressing problems specific to the cash payment market.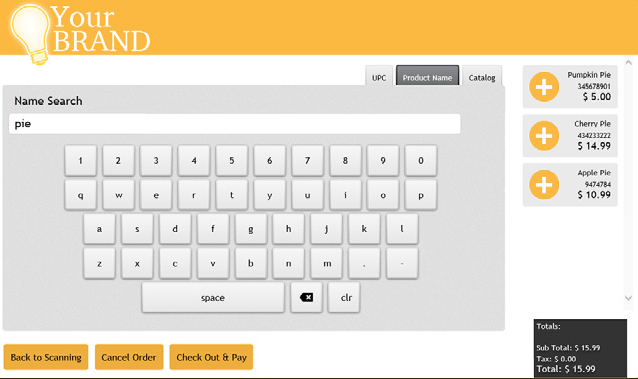 The KioPay Point of Sale kiosk application allows customers to self-checkout and pay via kiosk. Customers would select items from the catalog, purchase the items, obtain a receipt for the items, and take that receipt to the attended counter for item pickup. The receipt UPC would be scanned and the KioPay Fullfillment application (used by an attendant) would display the items purchased, allowing the fulfillment status to be recorded.
The Franklin Bill Payment kiosk's modern design has a compact footprint standing at 54" tall and is complimented with a 19" Touchscreen, along with bill accepting and dispensing, receipt printer and scanning for driver's licenses and product codes. Top tier components from CPI for cash options and robust software from KioWare are housed in this stylish and cost effective bill payment kiosk solution.
The MEI branded BNR (Bank Note Recycler) links MEI's industry leading cash accepting technology with a robust four denomination recycling system. The MEI BNR was designed to mimic cash handling capabilities of a human cashier yet provides greater security and cash management benefits.
Managing the KioPay Point of Sale Application
The retailer/kiosk owner can easily add items to the online inventory, customize the content, and add or delete inventory details via the KioPay Admin Tool.
The receipt can be customized (see screenshot below) via the Receipts Formatting Tool. Reports can be designed and created using the Reporting Tool (see below). Data can be exported via standard file or a custom exporter can be created to sync to common book keeping tools.
Customized Application & Hardware
Once the KioPay Point of Sale kiosk application is set up with the proper inventory, it is secured with KioWare Basic for Windows and customized via the KioWare Configuration Tool. The attract screen (the screen you see when you walk up to the kiosk) and KioPay payment screen are both completely customizable. The Franklin Bill Payment kiosk can also be customized with a variety of colors and custom graphics on the kiosk enclosure.