KioWare for Android version 4.2 was recently released with a wide variety of updates and fixes that work toward KioWare's constant goal of continual improvement of our products.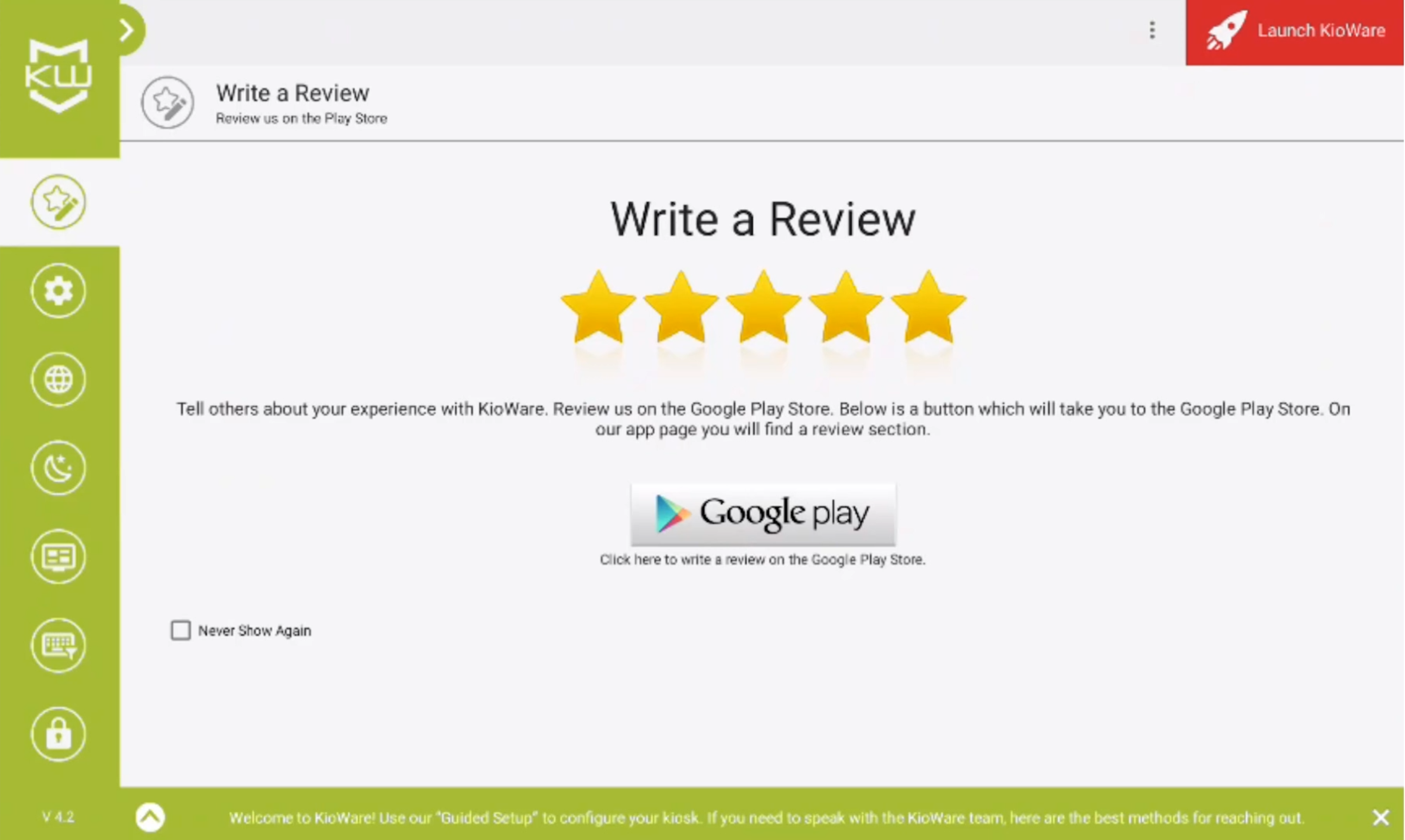 KioWare for Android 4.2 now targets Android 12. Included in this change is added compatibility with this version of Android's operating system. This version of KioWare is also now compatible with Samsung Knox SDK version 3.8.
KioWare for Android 4.2 has improved multi-tasking performance relating to network communications, specifically KioWare Server communications. This includes configurations that may be running multiple tabs or launching multiple apps. These configurations will see improved performance with this new version of KioWare for Android.
KioWare for Android 4.2 has also added an improved secure start up process. To take full advantage of this, set KioWare as the home application in your device settings as well as in the "Security" tab of the config tool.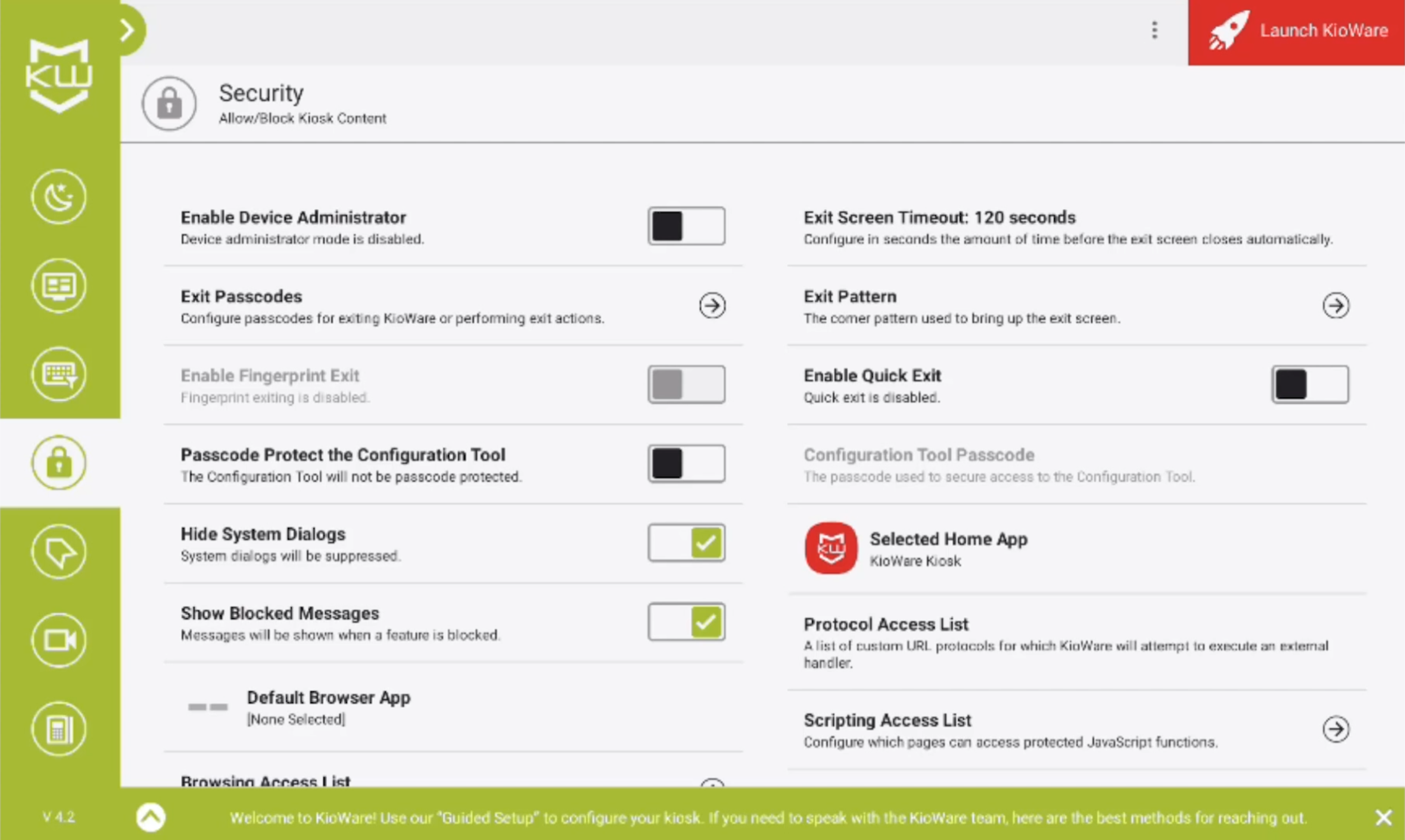 After having set KioWare as your home application, enable start on boot in the "General" tab. KioWare will now boot at a faster rate without displaying any potential home screen vulnerabilities.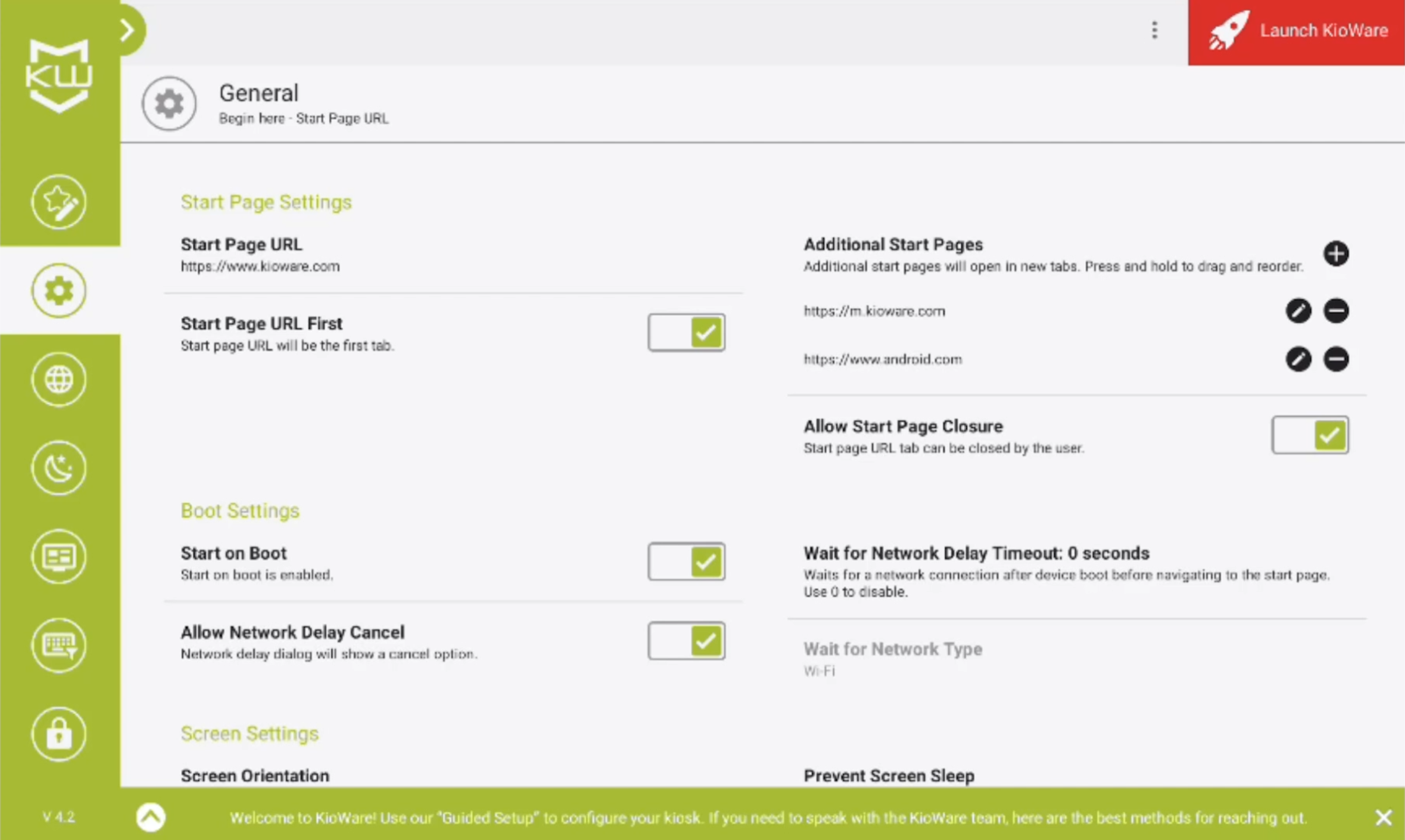 In addition, machine-specific substitution variables have been added to KioWare for Android. This feature can be used to reference a device's specific serial number in your configuration. It can then be used on a different device with a different serial number by simply editing the substitution variable value. The configuration tool fields which allow for substitution variables include:
Start Page URL
Automatic Settings Import URL
Provisioning Settings URL in the General tab
Spacer URL in the User Interface tab
Auto Actions in the Browser tab
Attract Looper in the Attract/Inactivity tab
The step-by-step example below will demonstrate configuring a substitution variable and then using it in the Start Page field.
Configure your variable. In this case, "KWU" is the variable name, and "KioWare" is the value.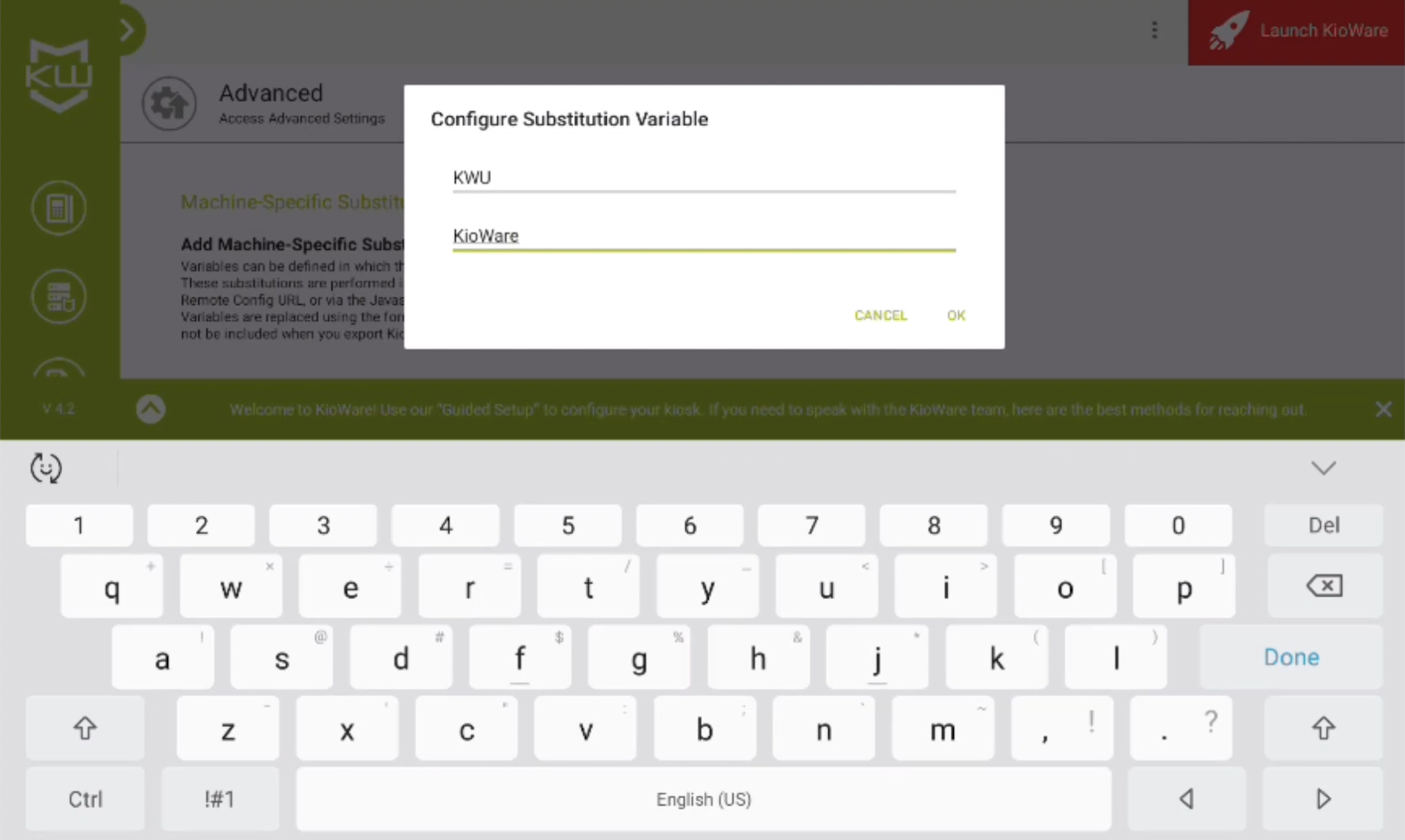 Configure your start page. The substitution variable can be referenced in the configuration using two leading and trailing dollar signs. When KioWare is launched, the variable is substituted in where applicable.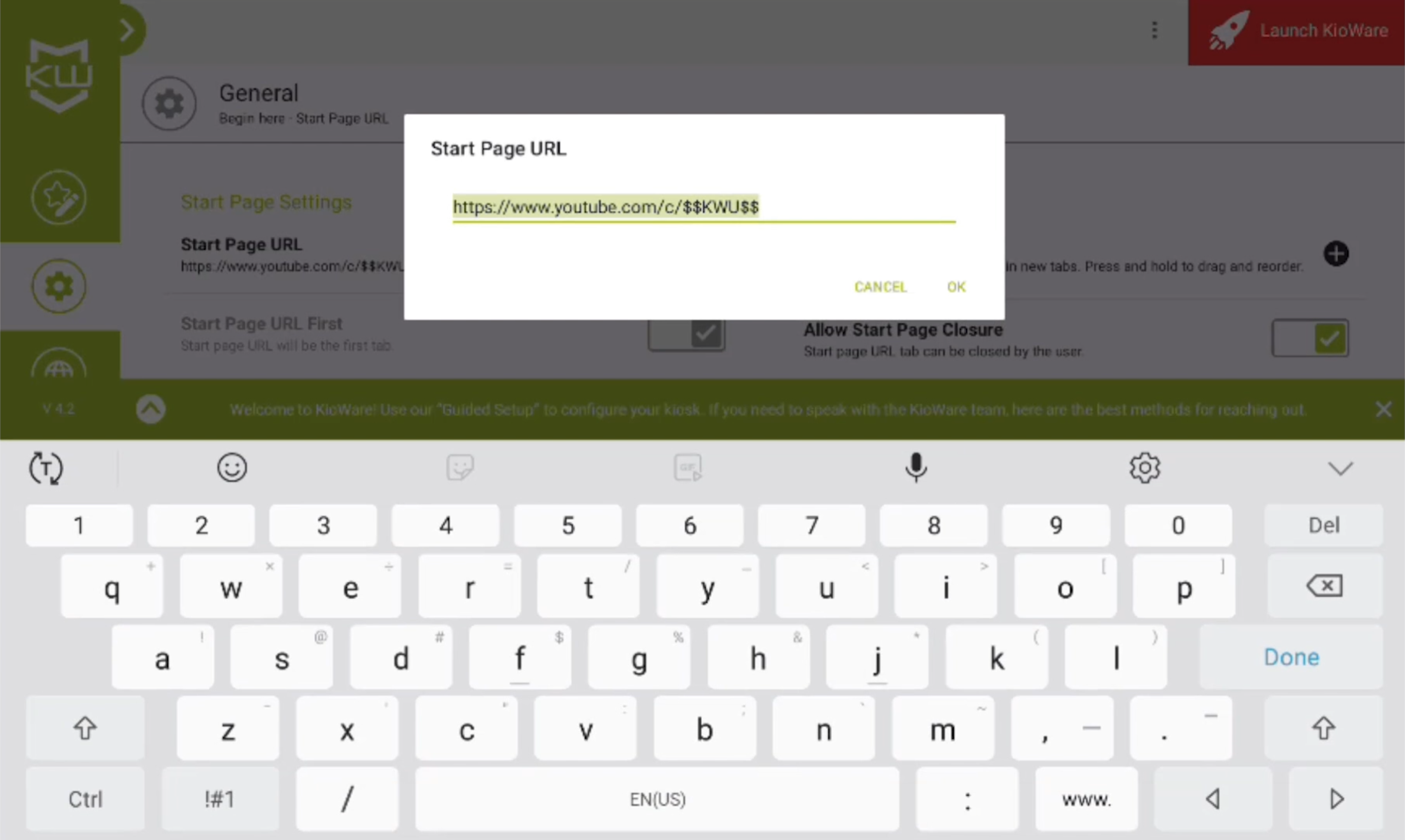 Starting with KioWare for Android version 4.0, users can add and customize additional toolbars, spacers, and browser windows from the user interface tab.
For any inquiries regarding bug fixes, please reach out to us at [email protected] for additional information!