KioWare for Android Now Available for Phones
9/2/2014
Version 3.3 of KioWare Lite for Android, KioWare Basic for Android, and KioWare Full for Android are now available for use on smartphones. Also new to Version 3.3: Google Drive integration, extended device battery life and push notifications from KioWare Server.
KioWare for Android™ Now Available for Phones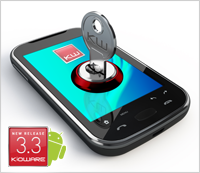 York, PA – Analytical Design Solutions Inc. (ADSI) has released Version 3.3 of KioWare Lite for Android, KioWare Basic for Android, and KioWare Full for Android. All KioWare for Android products can be used to secure mobile devices such as tablets and smartphones running on Android OS. KioWare for Android is now available for deployment on smaller screened mobile devices including smart phones and smaller tablets, in addition to the already supported traditional and oversized tablet and touch screen devices. The same installation files and configuration settings can be used, and KioWare for Android now functions fully with a wide range of small and large display screens.
Also new in Version 3.3, the XML file feature allows integration with Google Drive. Version 3.3 gives the ability to easily import and export your XML file settings to and from Google Drive. This allows for simple updating, posting, and sharing of an XML file across multiple devices, integrated into the configuration tool to make setup seamless.
The newest version of KioWare for Android has a significantly improved battery management tool. This allows you to improve your Android battery life while running KioWare. Battery life can be significantly extended based on configuration settings.
Version 3.3 of KioWare for Android (Lite, Basic, & Full with Server) offers all of the features listed below:
Mobile device & phone support
Google Drive import/export configuration tool option
Improved battery management
Wide View port enabled
Screen on/off scheduling
Ability to re-order attract screen
Various security updates & bug fixes
KioWare for Android Full with Server also supports Push notifications when utilized with KioWare Server Version 4.8.4.
KioWare Server Version 4.8.4 is also now available for purchase and download. Version 4.8.4 of KioWare Server notifies clients (via Pursh notifications) of new server commands.
All KioWare for Android software products lock down your Android device into kiosk mode, which secures the overall operating system, home screen and usage of applications. KioWare for Android turns your phone or tablet into a secure self-service kiosk. KioWare Full for Android also offers a server component that provides remote monitoring and reporting.
For a full description of new features for the entire product line visit our version history. Learn more about KioWare's android kiosk software. All of these products are available as a free kiosk software trial. Existing clients with current support have the ability to upgrade.
KioWare has been providing OS, desktop, and browser lockdown security for the kiosk and self-service industry since 2001. The KioWare for Android product line works with Android devices; Android is a trademark of Google Inc.