KioWare for Android Adds Samsung Specific Features
6/27/2016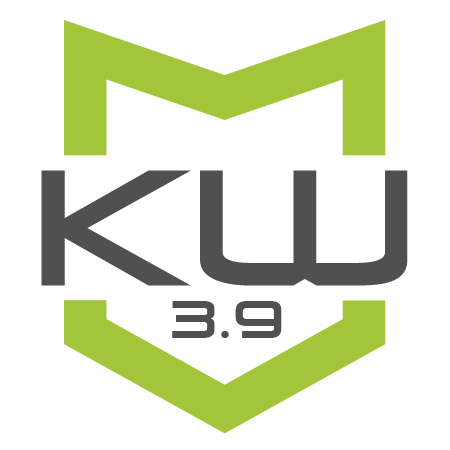 Version 3.9 of KioWare for Android is now available. New features include the ability to remotely wipe & reset the Android device. A number of Samsung specific features have been added, making it easier to hide the navigation bar, disable the power button, install applications remotely, and more.
Analytical Design Solutions Inc. (ADSI) has released a new version of their KioWare for Android kiosk software, with new features for mobile device management and interactive digital signage.
KioWare kiosk software products lock down your device into kiosk mode, which secures the overall operating system, home screen and usage of applications.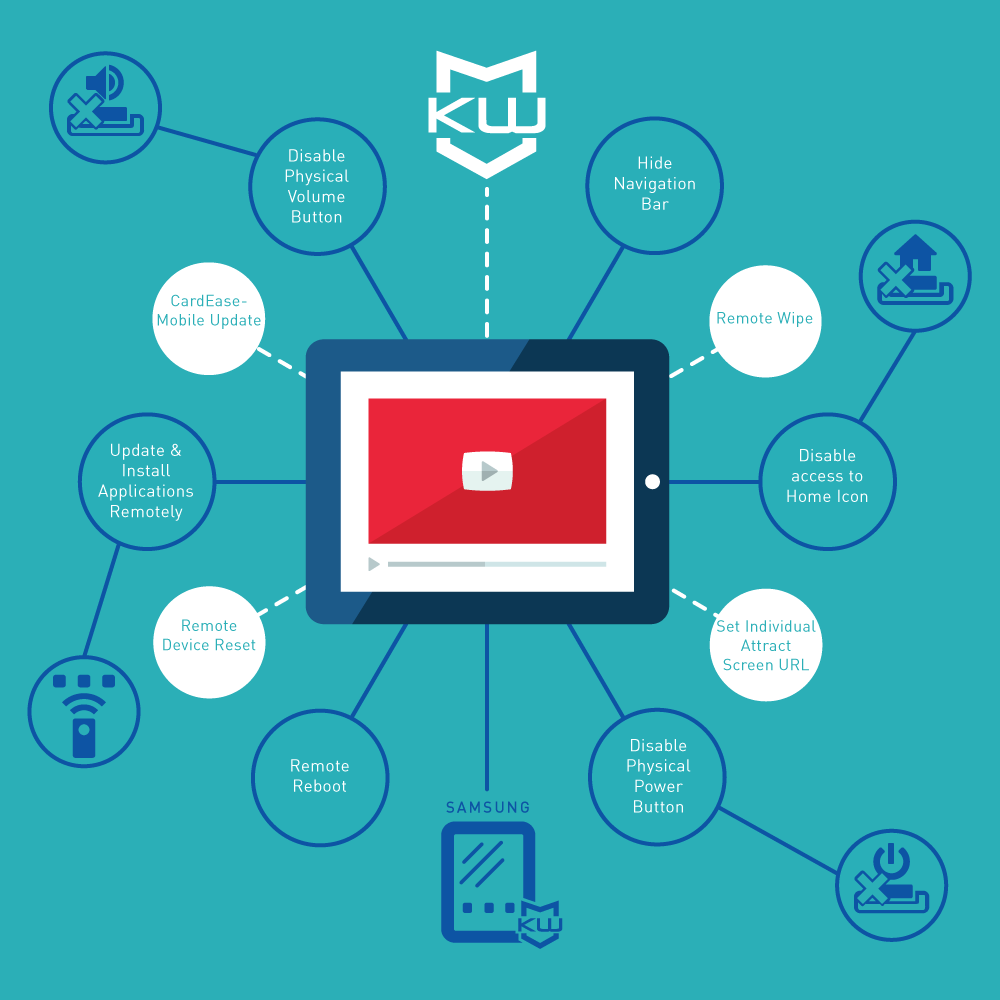 Features Gained Through Samsung KNOX
Version 3.9 of KioWare for Android (Lite, Basic, & Full with Kiosk Management) has added or improved a number of features which apply specifically to Samsung devices using KNOX Standard 5.1 and above. Download the KioWare Samsung Support application from Google Play in order to take advantage of these features.
Features specific to Samsung include the following:
Option to hide the navigation bar, completely eliminating ability to access any standard device navigation (improved feature)
Ability to disable the power off/airplane mode/restart option standard on any Samsung tablet
Restricts/allows use of the USB drive and SD card access
Disable physical power button (improved feature)
Disable access to the home icon/menu (improved feature)
Disable volume button & ability to physically change device volume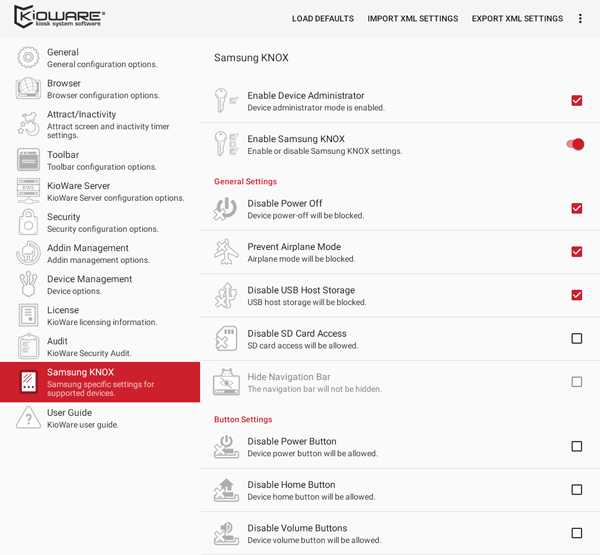 More advanced features now available in KioWare Full for Android and found in the Samsung configuration tab provide key components needed for mobile device management (MDM), including the ability to remotely reboot the device. Another significant feature for MDM, newly added and available exclusively for Samsung devices is the ability to update and install applications remotely (content updating).
New features for KioWare Full for Android using Samsung KNOX:
Remote reboot of device
Update and install applications remotely
These features are available for Samsung users running KNOX 5.1 and above. The new KioWare Samsung Support application is required for use of these features and can be downloaded in the Google Play store. KNOX is Samsung's enterprise grade security that is anchored in the hardware of your Samsung device.
KioWare for Android New Features (across devices, Samsung not required)
New features have been added to expand KioWare for Android's interactive digital signage capabilities. Most notably, device resetting and remote wiping is now available.
KioWare Lite for Android
KioWare Lite now offers the ability to set an individual attract screen URL to override the start page URL. This allows users to click the individual attract screen being shown and end up on a page specific to that screen.
Similarly, "stay on page" mode has also been added to the KioWare attract screen options.
KioWare Basic for Android
KioWare Basic for Android allows for utilizing supported external devices, and supports mPOS (mobile EMV certified payment processing) through CardEaseMobile. This feature has been updated to version 1.12 (Trinity) of CardEaseMobile. More about using KioWare for Android for accepting EMV Compliant mobile payments can be found.
KioWare Full for Android
Version 3.9 of KioWare Full for Android adds the all important device reset option, enabling remote wiping and resetting of the Android device. This is a critical feature for MDM deployments.
A new release of KioWare Server (to version 4.9.1) is necessary to utilize the KioWare Full features added to this release of KioWare for Android.
Current support is required in order to upgrade. View a full description of features added for this and other versions of the KioWare product line.
All of these products are available as a free trial with nag screen. Existing clients with current support can upgrade via their customer account.
KioWare has been providing OS, desktop, and browser lockdown security for the kiosk and self-service industry since 2001.